The Palm View is a 40-unit apartment complex that provides homes to low-income people with special needs who are living in West Hollywood, California.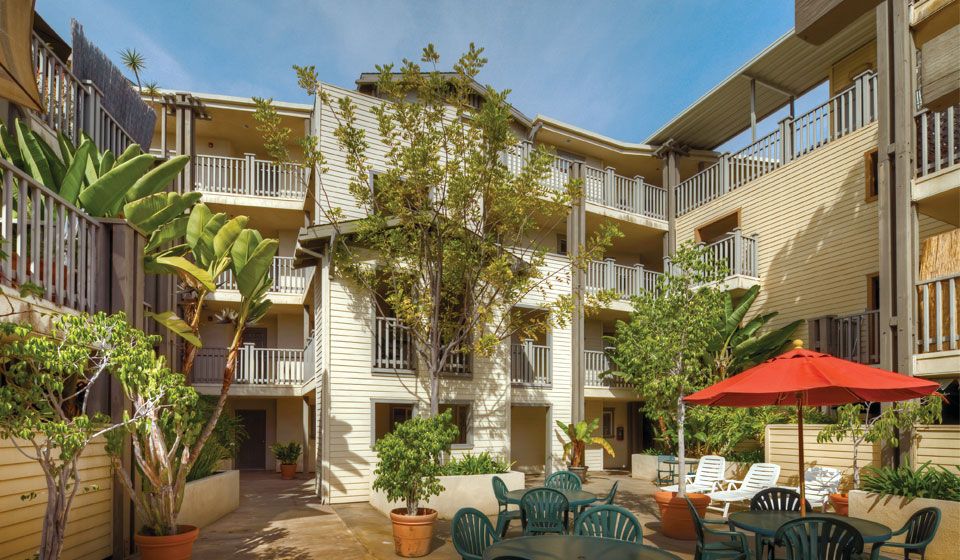 Opened in 1998, The Palm View is owned by the Entertainment Community Fund and consists of three buildings surrounding a beautiful outdoor courtyard.
The development contains:
29 one-bedroom units, averaging 600 square feet
11 two-bedroom units, averaging 800 square feet
5 units with mobility features for wheelchair accessibility
2 units with communications features for people with visual or hearing impairment
A 49-space parking garage
On-site management office
Citrus garden
Courtyard with seating and a community barbecue
A separate, community bungalow that includes a large living room, meeting space, computer room and a kitchen.
The facility totals 33,800 square feet, was designed by Killefer Flammang Purtill Architects and renovated by Ground Floor Design. It is managed by Levine Management Group, Inc., and most of the residents are entertainment professionals referred by the Entertainment Community Fund. The project is funded by the Entertainment Community Fund, the City of West Hollywood, the Los Angeles County Development Authority, Chase and Royal Bank of Canada, which together launched a $10.7 million renovation of the property in 2019–2020. The Entertainment Community Fund provides The Palm View with a full-time social worker who offers case management, referrals to local resources, short-term counseling and community-building activities.
Am I eligible?
Eligibility requirements for the apartments at The Palm View are based on a professional history in the arts, a diagnosis of a permanent disability (applicants must be receiving disability benefits), and annual income criteria established by the federal government. A small number of units are available to non-arts professionals. Household size for a one-bedroom apartment is 1–2 people, and occupancy for a two-bedroom apartment is 2–4 people.
To qualify for a one-bedroom unit at The Palm View, residents' annual income must be no greater than *$24,840 (for one person) or *$28,380 (for two people). The maximum incomes for two-bedroom units are *$47,300 (for 2 people), *$53,200 (for 3 people) and *$59,100 (for 4 people). *These limits are subject to change annually based on federal guidelines.
All residents of one-bedroom apartments, as well as one of the two-bedroom apartments, are eligible to apply to participate in the project-based voucher contract with the Los Angeles County Development Authority. Applicants may request an accessible unit by checking the appropriate box on the application or by making a verbal request to staff during the screening process if called for an interview. 
How to apply
Email the Entertainment Community Fund for an application at AppsPalmView@entertainmentcommunity.org.
About the Entertainment Community Fund
The Entertainment Community Fund is a national human services organization that addresses the unique needs of people who work in performing arts and entertainment with services focused on health and wellness, career and life, and housing. Since 1882, the Fund has sought to ensure stability, encourage resiliency and be a safety net for those who shape our country's cultural vibrancy.
Get in touch:
For more information or to request assistance, contact our Western Region office at 323.933.9244, ext. 455. For TDD/TTY to Voice: 711.
Donate
To Donate to the Entertainment Community Fund or The Palm View, or to explore naming opportunities at The Palm View, please contact our Advancement Department at 212.221.7300 ext. 129.